Moving with children is stressful and it is important for you to keep in mind that they will be experiencing similar feelings on a different scale.  In order to help provide them with an outlet, you may want to consider getting them a journal.  It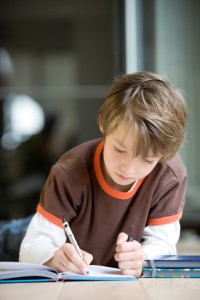 does not have to be fancy.  It can be a composition book.  This will give your child a place to write his or her feelings down.  Have them put in the contact details of their old friends so they can drop them a line when they get home sick.  Have them glue photos of their old place and friends they left behind.  This will give them an opportunity to comfort themselves as they transition into their new environment.  They can also put pictures of their new place and they can draw how they would like to decorate their new digs.
This could also help your child who maybe dealing with the possible deployment of a loved one.  This will give them an opportunity and safe place to acknowledge and write their feelings down.
After it is all said and done, they will be able to look through that journal at twenty and realize the wealth of experiences they had at such an early age.