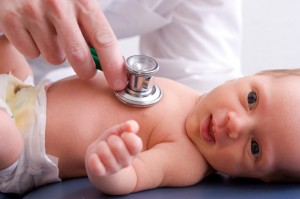 Finding a pediatrician is an important part of feeling settled.  Once you are in your new location, you will have to familiarize yourself with your insurance benefits.  This will focus your search on doctors you are eligible to see.  After you have your pool to select from, begin to do your research on-line.  This will help you to narrow your choice even further.
Once you have narrowed your search to one or two doctors, make an appointment.  Explain to the receptionist that you are new to the area and would like to make an appointment to meet the doctor.  Definitely take the time to write down a list of questions to ask the doctor.  It is so important to understand his or her philosophy and accessibility, which are key in finding the right pediatrician.  Bring your children to the doctor's appointment as well.  This will give you an idea of how he or she interacts with patients and if you child feels comfortable.
This appointment is a great time to bring out that medical journal I mentioned in my previous post that details any major health issues or history of your child.  This great tool will help you discuss any potential health issues with the doctor with ease because you will have the information to hand.  It will also help evaluate the doctor's opinion on various courses of treatment for your child.
There are fantastic pediatricians out there and I have been fortunate to have found them with each move.  Don't be discouraged if this does not happen at your first appointment because it may take a few more to find the right one.  After the research, you as a parent will know by that first appointment whether or not it is a good fit.  It is definitely worth the effort to find the right one for your family.