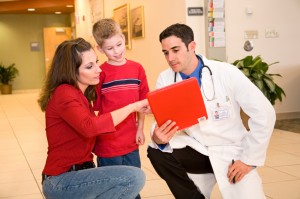 If you are a parent of a child with special needs, it is important to keep mind that stressful situations like a move can exacerbate symptoms.  I know that when you are planning and going through a move, it is very difficult to carve out time but in your circumstances it will be essential for a positive transition for you and your family.
I suggest that before you get started, meet with your child's doctor and discuss a plan of action to help alleviate some of the stresses.  Also, if you have a child in school, make sure you discuss the upcoming move with teachers and administration.  This will help you prepare them for any changes in your child's behavior.  Also, it will give you the time you need to get any paperwork in order.  If your child has any education plans, you want to make sure you have copies so that you will be able to have all of the information to hand when you meet with the new school and administration.  If your child has special transportation needs, make sure you have these identified ahead of time as well.
It may be helpful to get yourself a separate binder or folder where you can keep all of your important papers and notes in one place.  Organization is key to help you through the process.  You may also want to see my previous post on a medical journal.