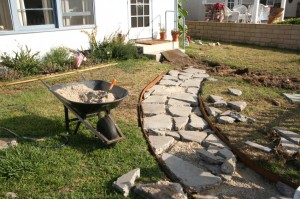 In this competitive market, landscaping is so important to make your house stand out from the competition.  There are many low-cost options out there to update and improve your landscaping.  In order to optimize the cost savings, you will have to put a great deal of sweat equity into it.  Start with evaluating what you do have and what you will need to improve.  If you have decks, steps and brick that looks tired, consider power washing to bring them back to life.  Look at your plants, replace any that are dead.  If you have overgrown plants prune them back.  If you are not sure how to do that or have problems growing plants, go to a garden center that is just dedicated to selling plants and ask for some tips.  Another great resource is your nearest extension office.  Most universities have these extension offices that are full of great resources for a multitude of subjects so take advantage of this.  Look online for one that can help you. If you are having trouble growing plants, have your soil tested at a garden center or an extension office can help with that.
Large plants can be expensive, especially trees.  Exotics are also costly and risky so consider native plants.  If you are not sure what is native for your area, ask a garden center for some help.  Keep in mind you do not have to invest a lot to have a big impact.  Focus on a few well staged plants to maximize the look of your garden.
You can top off your landscaping project with some reasonable garden furniture and accessories from your big box retailers and some discount stores.  Keep it simple and your investment will go a long way.