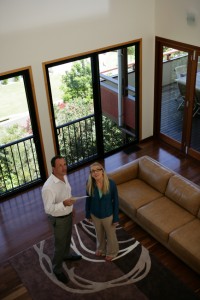 It is so important when showing your home to sell to keep in mind several things.  They are simple and cost-effective but definitely worthwhile.  First, clean and remove the clutter from your home.  This only works if you keep it that way.  I know that it is difficult to 'live' in a home that is on the market and being shown. Having three young boys myself, it can be an exercise in frustration and futility but once you have sold your home it will be a distant memory.
If you keep your home up while selling, you will not set your buyers up for disappointment.  For example, if you have pictures on the website listing that shows your home beautifully and then your potential buyer arrives only to see a mess, it can be a huge turn off.  It can also make them wonder about what else you could be hiding.  Also, a great way to keep your floors clean is to have some booties out by your front door for people touring to put on their shoes or just have them take their shoes off.
After you have cleaned, consider the smell of your home.  It may seem weird to you but know that a sale of home also has an emotional element and smells that comfort and make people feel good will help to captivate them.  Think about smells that make you feel like home.  Chocolate chip cookies, apple pie, cinnamon all have a wide appeal.  There are so many great candles and deodorizers that can help bring those pleasant smells into your home for a reasonable price.
A few other things for showings that I have done in the past to help 'get that sale' is to play soothing music, turn on most of my lights in the house and left little treats like chocolates or cookies.  These little 'extras' help to add to the ambiance of your home and make those potential buyers feel welcome.  In this tough housing market, every little bit counts so definitely go the extra mile to exceed your competition.