If you are moving to a completely new location, be aware that whether or not you have suffered from allergies in the past you may encounter problems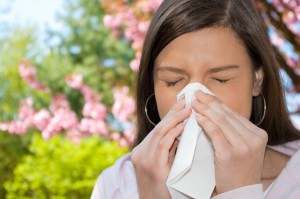 in your new home.  As you move to new locations, there are different plants, grasses and pollens that you may have never been exposed to, which in turn may cause allergy symptoms.  It is also important to know that in different parts of the country, seasonal allergies may be at different times depending on when things are most in bloom.
Once you are in your new location, keep several things in mind.  If you currently suffer from seasonal allergies, you may or may not be affected in your new area because you are changing your environment.  Definitely keep abreast of pollen counts.  If you experience symptoms, see an allergist, who can do a skin test to check if you are allergic to your new surroundings.
Whatever you do, do not ignore your symptoms because they could get worse.  You know your body best.  If things do not seem right, definitely seek medical attention.