The day of the move can be stressful but the more organized and prepared you are the better the day will go.  Whether or not you are having a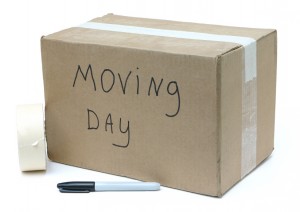 professional move you, you will still have to prepare yourself ahead of time.  You will have to pack your belongings for the duration that you will be transient.  Think of all of the things you may need to get you through this time.  If you have children, have them pack a bag of toys and special items in a bag that they can take with them.
A few days ahead of the move, I suggest you pack, clean out your fridge, set aside several very helpful items.  These include an all-purpose cleaner, paper towels, toilet paper, vacuum cleaner, garbage bags, bottled water and snacks.  These items will help you clean up after your things have been moved.  You will really appreciate having the toilet paper in your bathroom because you do not want to run out through the move.  The vacuum cleaner is also important so that you can vacuum up after everything is moved out.  Often times, the movers will pack the vacuum last.
On the day of the move, wake up early.  If you have hired a professional to move you, they will get there rather early so you want to be dressed and ready to go when they get there.  It is definitely a case of hurry up to wait.  If you are having friends and family help you, buy some donuts and coffee.  I am sure they will appreciate having something to eat waiting for them.
After moving so many times, both ourselves and with professionals, what have served us well is treating those helping us nicely.  Whether or not you are having the pros do the work, buy them some lunch and drinks on the first day.  This really helps you get started on the right foot.  We have found they will get back to work faster because they do not have to leave to eat.  The crews have been very appreciative of the kind gesture and often times go over and above.
Whether or not you are moving yourself with help or having the professionals do the heavy work, be prepared to be traffic cop.  You will be interrupted and ask many questions, so just be patient.  Take the time to answer them because you will want to make sure it ends up in the right place.  Once it is over, you will find yourself in a hotel lying on the bed and wondering how it all came together.  You will be glad you did your extra preparations ahead of time so that you can rest easy that night.