When selling your home it is easy to focus on the interior but don't forget the curb appeal.  In this competitive market, just as much effort needs to be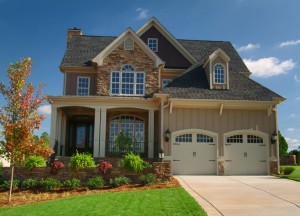 put on the exterior of your home.  Take the time to step outside and evaluate the condition of your home with a critical eye.  Look at the paint, shutters, front door, driveway, steps, mail box and plants.  See what can be addressed relatively inexpensively.  Power washing, painting the front door, shutters and mail box can really freshen up the look of your home for minimal cost.
After reviewing the hardscape turn to the landscape.  Are your trees in need of pruning? Do you still have that dead hedge in the front of your window?  Are your annuals dead and need to be replaced?  Does your sod have dead patches? If your budget is limited, focus on the red flags first and get ready for some sweat equity.  Just keep in mind that the front of your home should look pristine and full of life.  You don't want a potential buyer to enter your home with concerns or worse turn away without even seeing the inside of your home.