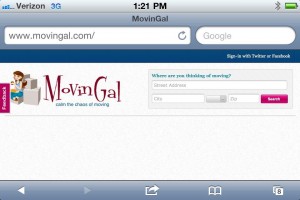 I am so excited about the launch of our website.  It has come to fruition after many months of work to help all of you.  Today, I would like to explain how MovinGal the website works.  After many moves, it came to my attention that there was no centralized location online to do find out all you wanted to know about a property to decide if it was the right one for you and your family or to set up services and settle in.  Instead, I would have to do countless searches for each topic such as utilities, schools, sex offender registries, which only added to my tasks during the stressful time of a move.  Therefore, I thought it would be so convenient to have all of these resources in one place.  Thus, MovinGal was born.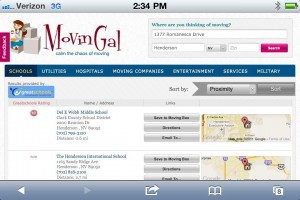 MovinGal the website works in concert with the blog to offer you a complete set of resources to make your move easier.  When you get to MovinGal the website it asks you, where are you thinking of moving?  All you have to do is type in the address and viola!  All the information you need to make a decision or settle into your new home is there from schools, medical facilities, doctors, dentists, utilities, government, military, retail and national services.  Want to save it or print it out to take with you as you look at properties to rent or buy?  Just log in and save it to your Moving Box, which is all a part of our free service.
I look forward to a wonderful future together.  So make your move with MovinGal!