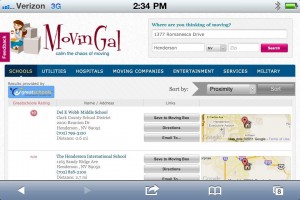 Please be patient with me but I am so excited about my new website and how it can help you that I just had to do one more post.  MovinGal the website provides you with so many different uses.  Not only will it help you settle in to your new place but it will also help you decide on whether or not the property you are considering to rent or buy is the right one for you and your family by giving you a context in which the new place is located.  It will help you understand if it is near all the services, schools and facilities that are important to you.
Also, It can help you find just right place for your college student, who may be looking to live off campus this year.  If you are planning to retire and downsize, it can help you find the just the right place near services and medical facilities you may want.  If you are military family PCSing, this is a great resource to help you find just the right place for you and your family, especially if you are considering living off base.
Please give it a try and see how MovinGal can help you.  Best of all it's a part of our free service.  Remember to make your move with MovinGal.