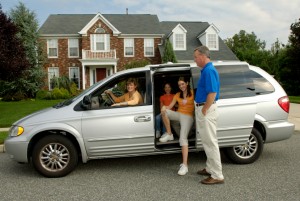 If you find yourself moving with the kids a good distance, you may be driving to your new home.  Car rides can be stressful and hectic and adding a move to the mix can make for an interesting journey.  We have done both car rides and flights to make the move.  Each has their own advantages and disadvantages.  If you drive, you can bring just about anything with you but it takes much longer to get to your destination.  If you fly, you are there much faster but have very limited options on what you can bring with you.  You can overcome that by shipping some essentials to you new location.  In any event, you may find yourself without a choice.
Nonetheless, how do you make the trek without going crazy?  There will be times were it is unavoidable and you will have your moments.  However you can mitigate the stress by preparing yourself.  Pack ahead.  You don't want to be under the gun trying to do this.  Before you move, take the kids to the store and have them pick out a few special items to keep them occupied and save it for the day of travel.  This way they have something fun and new to keep them busy.  You can even let them pick the snacks for the journey.  Anything novel to keep them occupied will make your life easier.  You also want to make sure you carry any important documents and personal affects with you.
When it's all said and done, you definitely want to stay positive.  Try to make the most of it.  If you are moving this summer and you have the time, try to make a few stops to enjoy the journey and make it a bit of a vacation.  Know that it will be over soon.  So keep smiling.