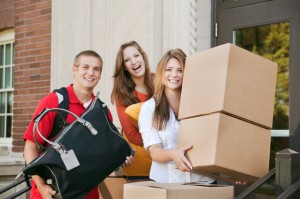 As you prepare your high school graduate to leave the nest, it will be filled with mix emotions.  As you enjoy your summer with him or her, be sure to start early on selecting a new place to live.  Depending on the university or college your child will attend in the fall, there may or may not be on-campus housing options available that will best suit your child.  It is important to keep in mind their needs and manage expectations.
Have a chat with your child to evaluate what they want and need.  Will they be working part-time?  Will they play sports? Will they be on an urban or rural campus?  Will they need a car or have access to public transportation?  It is important to know that if your child lives in a dorm, he or she may have to take part in a meal plan.  If so, check the dining times.  If your child is working during these hours, he or she may not be able to take advantage of these meal times.  So go over the details prior to purchasing a plan to see what will work.  It may be best to get him or her a smaller plan and dorm fridge to help offset these times.
A car can be a detriment rather than an asset on some campuses so definitely evaluate your child's transportation needs prior to entering in the fall.  Many campuses have transportation options available, just make sure that they will meet your child's needs especially if they are planning to work or live off campus.
Another great tool in your arsenal is to use my website MovinGal.  It will give you all the essential information to help decide on the right place and settle in.  It will be especially helpful if you are considering off-campus housing.
Good luck! It is such a wonderful time for your child to spread wings and leave the nest.  The more prepared you both are the easier the transition will be.