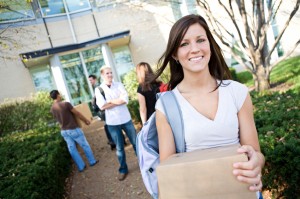 As you begin to pack your child for college, you may want to think over and beyond the clothes, bedding and school supplies.  Think about a special care package that will help your child make the transition easier and help them when they are in a bind.  In the package, include some of your child's non-perishable favorites from home.  This will help them when they begin to miss home or have a craving.  Another important item is a prepaid phone card.  This may seem a bit archaic since most college age kids have a cell phone.  However, it will offer a great back up in case an emergency when he or she does not have access to a working phone.
You may also want to think about putting together a memory book.  You could have special friends and family write notes and put pictures in it.  This will be a pleasant surprise for  them when they move in and they can refer back to it when they need too.
Another thing to consider is giving your child a stash of cash and a prepaid credit card for them to carry in their wallet.  This is just another precautionary measure to take in case there is an emergency.  The prepaid credit card can be very helpful if they run out of funds and need access to money quickly.  An extra $20 to $50 hidden in their wallet can help with cab fare if they need to head home from the library after a late night of studying or a party and they are not able drive or get a ride.
Irrespective of how responsible your child is, they will be offered many choices in college.  Discussing this with them ahead of time and offering them back up options will help them be prepared.  Giving them access to what they need when and if they need it will also give you some extra peace of mind.