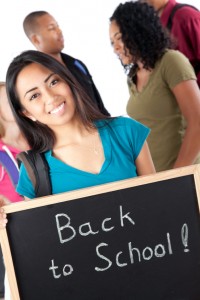 It is that time of year again, when our kiddos go back to school.  First day of school for any child is full of excitement and fear.  However, for a child entering a new school due to a move, these feelings may be exacerbated.  Many schools have back-to-school events prior to the first day of school.  Definitely, make the time to attend.  This way you and your child can familiarize yourself with what lies ahead.  This effort will help to comfort your child as well.
The night before, get things ready.  Pick out the outfit, get the school supplies ready and pack the lunch.  This way you and your child will not be rushed to get out the door.   On that first day, consider making it special.  If you work and it is available to you, make the time to have breakfast with your child and drop them off.  This way they will not have to struggle with all of the back-to-school stuff on the bus and have you with them for extra reassurance as the enter their new school.
For older children, I suggest having a long talk with them to see what will make them most comfortable.  Middle and high school transitions will be harder.  Therefore, keeping those lines of communication open is essential.  Parenting is such a juggling act and this is just another opportunity you will have to evaluate what is best for your child.  There is no right answer as I am finding.  Just try to do your best for them and chances are it will work out.