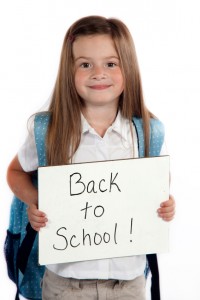 Back-to-school is now on many parents minds.  If you have recently moved to a new area, it will be a transition for you and your family especially for kids starting a new school.  I'm sure you have done all your research ahead of time and have registered your child for the school year.  However, making it easier on your child to transfer into his or her new environment will be key to a positive outcome.  I suggest you take some extra effort to get your child excited about their new school.  Check on-line for your schools website and see if they have spirit wear.  Let your child pick out all of their school supplies, which can make them feel more empowered.  Try and contact the PTO or PTA president.  Have a chat with him or her before school starts to get a feel of parental involvement and events during the school year.  This way you can prepare your child so they can be 'in the know' and not feel so much like an outsider.
If your child has any special needs, you definitely want to make the effort to meet with school administrators ahead of time to make sure that the school has the resources and staff to meet your child's needs.
The first day of school will be full of excitement and fear so make a special breakfast and have their outfit out and ready to go.  This will help them have a smooth morning on their first day.  Remember that your child picks up on your mood.  If you stay positive and excited they will feel it too.  It may take some time for your child to feel accepted but be patient and understanding.  Above all make time to talk especially when they are ready to speak.