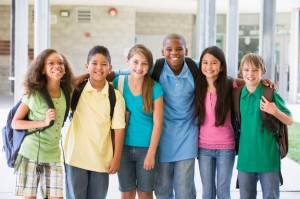 I thought this would be a great time to repost this.
Since we are in the midst of the school year, I thought it would be important to discuss the effects of a move on children.  Even though you may have a thousand things on your mind, please do not forget that your kids will experience similar feelings on a different scale.  I know it is extremely difficult to carve out time in the midst of the move, but try, so you can chat with your kids.  Get a pulse on how they are feeling.  Keep the lines of communication open.
There are many different schools of thought on whether to transfer your kids mid-year or wait and separate the family until the school year is over.  There is no right or wrong answer, instead it will come down to what is best for your kids and your family situation.  As for myself, I have chosen to stay behind and let my kiddo finish out his school year.  It was tough on me but it was best for our kids at the time.  He had time to prepare himself and his friends for his departure. It also gave me time to really evaluate what school was best for us in our new location.
However, I have also heard some positive experiences from those who have transferred their kids after the start of the school year.  Because they are the 'new kid on the block' they will get a great deal of attention.  This notoriety will not be lost in the shuffle of kids being reunited after the long summer holiday.  Therefore, your kid may get the opportunity to immediately make friends and get to know others.  Further, you will not be in a new location over the summer holiday with your children struggling to meet friends and finding activities for them.
Once your kiddo starts school, it is important to try to keep current with the new school and make relationships with the teachers and administration.  Express to them your concerns so that you remind them that your child is new and may need some extra attention. Get involved.  Trust me.  It pays dividends.