Given the recent cold temperatures around the country, I though it would be a good time to repost this.
If you are moving from a warmer climate to a colder one, the last thing you may have on your mind is your vehicle.  However, it could be an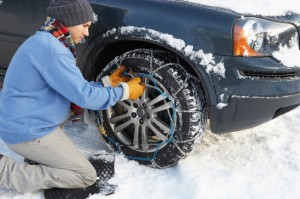 important factor in making living in your new environment easier.  I know that when you are moving you are faced with a lot of expenses so the last thing you may want to consider is a new vehicle in the mix.  Bear in mind, there are ways around preparing your vehicle for colder climates that will not break the bank.
Before you move, definitely take inventory of your current vehicle.  Is it a front, rear or all-wheel drive vehicle?  Does your vehicle have four-wheel drive capability?  Does your vehicle have some sort of stability control?  For those of you who are not familiar with colder climates, a rear-wheel drive vehicle will pose the greatest challenge in snow and sleet.
In any event, it is so important to winterize your vehicle before you move to a colder climate.  Make sure your car has anti-freeze and window-washing fluid instead of water.  If you do not have these fluids in your car, it could be a costly mistake if the water freezes in your automobile.  Also, consider snow tires on your car.  You can easily switch these out once summer arrives to get greater use out of them.  Snow tires will definitely give you more traction that can help you get out of a tight spot.  If you are going to live in a mountainous region with lots of snow, you may want to consider chains.
When we lived in Minnesota, my wonderful colleagues taught me some other important lessons.  They told me to pack a kit in my car to help get me out of a tight situation.  The  kit included a candle with matches (to keep you warm in case you run out of gas and find yourself in a ditch), food (granola bars work great) and water, and kitty litter in a plastic bag (throw these under your tires to give you extra traction if you get stuck).