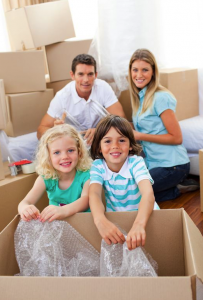 The moving season is right around the corner.  So how can you prepare for it?  I may sound like a broken record, but starting as early as possible will make all the difference.  I have learned from my interview with David Macpherson, VP of International Division for JK Moving, that your choices for moving companies in some markets have significantly reduced because of the economy.  Therefore, there may be a capacity issue this summer.  This capacity issue will directly impact your ability to secure the dates you may want.  The earlier you can secure a date, the better you will be.
You want to prepare yourself and be organized.  It has been great to hear from the military spouses that I interviewed.  They all came up with a system that worked for them, as I have.  So take their advice to heart.  Get a binder, notebook, file folder or take notes in your phone.  Whatever works for you, set it up.  Chances are you will use something that feels natural to you, so go with your gut.
Stay positive.  This was also a common theme with those I interviewed.  If you make it an adventure and stay positive, you will set the right tone for the experience.  Your children take their queues from you, so you want to make sure that you keep upbeat.  If you are moving across country this summer, make it a vacation.  Stop in places to visit that you would not necessarily take the time to do so.  Have the kids record their experiences in a journal.  Have them take pictures and videos to post to friends and family.  This makes it easier for them to keep in contact with those they left behind and see it as an adventure.
Moving is an experience.  Make the most of it and you will be surprised how things all fall into place.  The memories you make will last a lifetime.