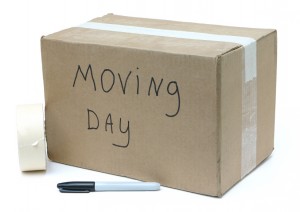 With peak moving season soon upon us, I thought this would be a great repost.  I have added some additional information.  At one of our recent Movechat discussions on Twitter, we spoke about tips to you can offer your customers in order to prepare for a move during the peak season.  It was an interesting discussion and quite timely since we are about to embark on a very busy time in the moving industry.
From a customer's perspective it is important to understand that moving companies are very busy from May until fall.  Therefore, you should prepare yourself for this but also know that if you pick well, this busy time should not compromise your level of service.  If so, definitely reevaluate your choice.  Know that during this peak time, rates will be higher than the off-peak.  I learned from my interview from David Macpherson, VP of International Division from JK Moving, is that the economy hit the smaller mom and pop movers rather hard and some went out of business.  Therefore, your selection as a consumer has reduced.  Therefore, there is a capacity issue during the peak season for the movers, who are there to help.  So keep in mind that this may directly impact your perspective move date.  I want to emphasize how important it is to contact your mover as soon as you know you are moving.  This is critical in helping you schedule your move.
What you can do as a customer to help alleviate any trouble during this peak season?  First, start early.  Start as soon as possible.  Second, interview and pick well.  Go with a reputable mover that is reliable.  It may seem to cost you a little more but it will be worth it in the end when your goods are delivered as scheduled.  There are several resources out there to find a good mover.  A good start is using AMSA.  Third, be organized.  The more organized and prepared you are the quicker the move will go.  You do not want to be still packing as the movers arrive.  Also, make sure you have all of your plans in place.  A place to stay the day you move out and any travel arrangements should be scheduled and booked.
The biggest tip I can give is just to be patient.  No matter how organized you are inevitably something may happen unplanned.  Good, bad or indifferent you will not be able to prepare for everything.  Just remind yourself that it will soon be all over and  you will soon be in your new home.