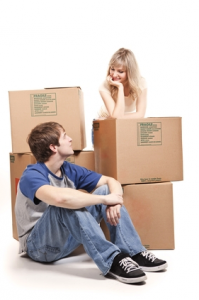 So you're thinking about moving across the country for the sake of a long-distance relationship. How do you know you are doing the right thing by leaving your home for a new city? You can never be 100 percent sure when it comes to matters of the heart. However with a few tips to help make the move stress-free and less taxing on your wallet, you'll have a better chance giving it a try.
Take Your Time
You'll need at least six months to coordinate and execute a successful move. Get a large calendar where you can schedule all of the necessities from hiring movers to setting the date of the move. Schedule tasks you need to accomplish, such as finding a job and selling appliances and stick to your schedule. Not only will you be less likely to forget to do something important, but you'll also be less stressed.
Get a Job
Have a job secured in the city where you'll be living. If you can't find a job there, wait until you have saved enough money to live off of for six to 12 months so that you'll be covered during your job hunt. Start networking in your future city as soon as you can, as you'll be more likely to find a job if you know someone there.
Hire a Moving Company
When you're moving to a new living space, the last thing you want to do is spend days packing dishes and breaking down bed frames. Using a shipping service along with professional movers to pack and move your belongings will help you do this quickly and efficiently.  ClickandMove is a great resource to find a local mover in your area.  Save time and enter your inventory online and you will receive estimates electronically.
Ship Your Car
If you are moving across the country, you might not want to drive your car — or you might not be able to if you are moving yourself in a rental truck. Consider shipping your car to avoid the hassle. Services such as transportcompanies.com auto shipping allow users to compare quotes before deciding on a company. When it is time to move, hop on a plane or train and zoom to your loved one in a fraction of the time. Not only will you arrive with enough energy, but you will cut out the wear and tear on your vehicle.
To Take or to Toss
Make sure there's enough room in your new home for larger items like kitchen appliances. Then consider how much it will cost to ship the items based on weight. You might be better off financially to sell that stacked washer-dryer combo and put your money toward a new one when you get there.
Moving Sale
Forget the old-fashioned garage sale. Go with online options for selling your stuff including Craigslist, Ebay and Etsy. At Craigslist you can sell anything for any price targeted to those in your area. Ebay allows you to auction off things, like lots of clothing or books, so you can get rid of bulk items fast. Etsy sells vintage and antique stuff like your hand-me-down dishes or that old prom dress from the '80s.
Security Box
Store everything including your birth certificate, insurance policies and your new address in a medium size box. Keep the box with you as you move so you have all of your important paperwork at hand; no searching for lost documents! Lori Wilson of SheKnows recommends packing a box of necessities, such as a roll of toilet paper, toothbrush, toothpaste, soap and trash bags in the box, and keep it separate from the other boxes so you'll have easy access to it when you move in.
Lights, Power, Action!
Go ahead and get your utilities set up before you arrive. Having water and power going in your new home will be a lifesaver. You don't want to spend the first few days moving in with no heat or cooling system, or no light!
Whether you have found the perfect mate or not, at least you'll have a life changing adventure — so make the most of it.
By Lindsay Coleman
Lindsay, a freelance blogger/editor in the food and entertainment industry, hates downtime. She goes out of her way to discover and enjoy new things.