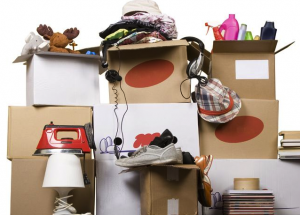 For most of American history, the trend has been for Americans to move into progressively-larger homes. After the Housing Crash of 2008, that trend began to change. For one, Americans faced economic pressure and uncertainty on a level they had not seen for many decades—people simply didn't have the resources or weren't willing to take the risk of building a larger home, and so apartments and condos saw a boost in sales. But four years later, that boost isn't waning, and that's because more and more Americans want to live in smaller homes. A large number of Americans of all age groups want to move out of the suburbs and back into the city, from young people looking for robust economic centers to retirees seeking out cultural amenities. And of course, moving into the city often involves downsizing.
Downsizing presents the mover with a new problem he or she would not have experienced when moving into a larger home.  What to do with all of his or her stuff? Fitting the contents of a larger home into a smaller one can create an uncomfortable living environment. That's where affordable self-storage can be the solution.
How can one figure out if a storage unit is a solution to the problem of downsizing? More than anything, you must figure out if a storage unit makes economic sense. One of the main reasons people downsize is to save money—if your new home's rent is more expensive than the last, you probably don't want to add a new storage unit to your monthly expenses. Hypothetically, you're moving from a four bedroom house that costs $1600 a month into a two-bedroom apartment that costs $1250 (both prices includes utilities).
So how do you determine if storage is a tenable solution? After some arithmetic, you have a margin of $350 between your old home and new apartment.  Therefore, as long as your storage unit doesn't cost more than $350 it should be financially sustainable. For example, if you're moving into an apartment in San Diego then $350 gives you a lot of room to work.  A large 10×10, which is the size of a large bedroom will cost you $100 a month or less at San Diego storage units. This means you'll still be able to save about $250 a month and keep your valuables.
Essentially, this equation will help you to determine if storage is the solution for you to downsize: (old home's living expenses) – (new apartment's living expenses) – (monthly price of storage) = monthly savings/loss
While storage can make your downsize much easier, it is not a good long-term solution for most people. Though $100 a month might seem reasonable to keep a bedroom's worth of items, that price adds up over time.  A year would cost $1200, or almost a full month's rent in your new apartment. Storage is best while you're in the process of downsizing as a safe place to keep your possessions until you find something to do with them. Some people make the mistake of tossing their things in a storage unit when they move or downsize and then forgetting about them.  Remember, only a few months of neglect can add up to a hefty bill. However, using storage the right way can make downsizing far easier.