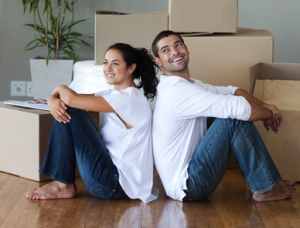 Moving is never easy, but technology can help. The Internet offers advantages that 10 years ago were impossible – all without ever stepping away from your desk. You can't physically move your stuff using a computer, but it will get you organized. Look at five ways the Internet will help you plan your move.
Finding Just the Right Home
The days of combing print classifieds are over. The savvy mover will search online for a new home. Check out the local newspaper website for classifieds or use a global source such as Craigslist. Online offerings have pictures of the apartment and contact information for the proprietor. Use caution when dealing with money issues via the Internet. Avoid sending deposits through an online service like Western Union.
Real-estate agencies and property-management companies have not missed the online boat. Realtor.com and Move.com are both great resources to get listings and detailed information.  You can go to a website to see video tours of potential homes, a list of amenities and floor plans. Use forms to check availability and fill out applications.
Protect Your New Home
Find a good website, such as Kemper.com, that gives accurate, reliable quotes for insuring your belongings. The right coverage will protect your property as you move into the new home. Have the insurance in place when you get there, so if an accident happens, you will have protection.
Get to Know the Neighborhood
There is more to house hunting than just finding the right number of bedrooms and baths. Going online teaches you about the community. Check out local schools and jobs in the area. You can research bus lines and stores around your new home. Calculate how long it will take you to get to school and work each day. The neighborhood is just as critical as the house. Look for crime statistics and get feedback from people posting about the area by checking out forums.
MovinGal offers you a fantastic opportunity to find the community-based services in your area.  From the location of your nearest emergency room to your local dry cleaner, it is all there in one convenient location to help you transition successfully.
Set Up House
Once you have settled on an address, it is time to set up your utilities. Go online to schedule connections for electricity and gas. You can shop for the best cable and Internet service in the area. Locate wireless hotspots in places like the local park and library for days you need to get out of the house. Get pricing on landline phone and mobile services. With the Internet, you can have most everything up and running by the time the moving truck pulls in front of the house.
Get Moving
The Internet gives you a communication tool to get everything organized for the big move. Use social networking to set up a group of friends for support. You can keep each person informed of times and dates with updates. Online calculators help you figure out how much everything weighs so you get fair estimate from the movers. Once you find the right company, make a reservation to secure the best rates. You can even pay up front, but make sure you are using a secure Internet connection. When packing, look for an application to make crisp labels for the boxes. Many trucking companies have a wealth of online tools to get you ready for the move.
The Internet is a powerful tool when it comes time to relocate. Whether you are looking for a job or moving because of one, online gives you access to rental homes, moving services and insurance. A safe and stress-free move comes with proper planning. Use your computer to get where you are going.
Justin Greig is a self-proclaimed "21st century hippie".  He studied Journalism at Berkeley and freelances for many environmental publications.  He has a special interest in conservation, and he and his wife recently added solar panels to their home.