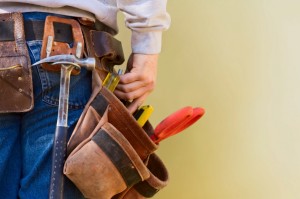 When we move, we want to be that guy or gal who makes it happen but sometimes you just have to hire a handyman.  A couple days ago, my friend had me cracking up when he mentioned something funny that got me thinking.  He said when he first moved in to his new home, he wanted to be 'that guy' who hung the flat screen TV and 'that guy' who hung the blinds.  To his credit he tried.  He looked at the wall and the studs and the equipment and thought to himself….nice try.   He realized it was best to hire someone professional help him, instead of wrecking his wall or TV.
How many of us have been in that position?  I must confess that I have been guilty of this at times.  My famous last words…how hard can it be?
My recent bright idea was building a wooden playscape in our backyard for our boys.  What the heck was I thinking?  It ended up being a six week drama with my husband and I exchanging expletives and dirty looks.  Note to self and many of you….Take my friends advice and keep the peace in your family.  Get professional help when you need it.