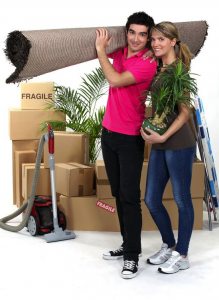 Moving Day is exciting but also very busy and packed with multiple tasks. If you're not prepared, you could overlook some details that make the overall move a lot easier. As exciting as it is to get the show on the road, it definitely pays to be as organized as possible. Here are a few things to keep in mind when moving.
Keep Track of Critical Information – Nothing is worse than losing important documents and other things while moving. After arriving at your new home, you'll probably want to get started with organizing and decorating right away. You're not going to want to dig through box after box to find birth certificates, bank documents and other paperwork. Create a moving binder and fill it with your most important paperwork. Put it in a last-in, first-out box, which will also include the things that you'll want to have immediate access to after arriving at your new place (phone chargers, toothbrushes, etc).
Scout out Services in Your New Area Ahead of Time – Most people don't get to know their new neighborhood until after moving. The transition can be a lot easier when you already know where to go for various services. Well before moving, search online for doctors, dentists, veterinarians and other service providers. Use a review website to get a feel for the best options in your new area. Armed with some knowledge about local service providers, it won't be a disaster if someone chips a tooth in the first week.
Label Your Boxes Well – You'll waste a lot of time and energy by not labeling your boxes properly. Boxes will end up in the wrong parts of the house, and things will have to be moved around again and again. Why put yourself through that? Each box should be clearly marked with the destination room and the contents. This information should be marked on each side of the box too. That way, you'll be able to tell where it's supposed to go even when it's stacked in a pile of other boxes.
Update Your Address – You'll definitely want to have your mail forwarded after your move is complete. It's better and more efficient to manually update your address with as many companies as possible too. You should be able to do most of this online. Log into your online credit card accounts, bank accounts and other accounts and update your address. For things like your driver's license, you may have to actually go to the DMV to update your address.
Contact Your Service Providers – No one likes waiting around to have the cable phone services set up at a new home. As soon as you have an official moving date, contact your service providers and arrange to have everything switched on the same day. With any luck, your services should be able to be switched almost seamlessly. If you put this off until the night before you move, you're sure to be left with scattered appointment times on different days.
Getting the legwork done ahead of time can make moving a much more enjoyable experience than having to scramble around to get things done after the move is complete. It's a great feeling to kick back, relax and enjoy your new home for a few days. The easiest way to make that happen is by taking care of all of these little details as early as possible. It's far better to be prepared ahead of time than it is to put things off until everything needs to be done at once. A move can go off very smoothly when you take the time to be prepared.