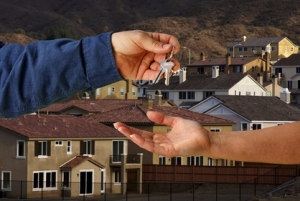 Moving is stressful but here are six secrets to downsizing your stuff so you will not be overwhelmed.  Moving is difficult enough, you don't need to add to it by arguing what to keep and what to donate. Below are some simple tips and ideas to keeping it simple and learning how to downsize and declutter your home.
Less is More
Get rid of cluttered shelves and too much furniture (unless you're going for an eclectic look). If you're moving to a smaller space, you're going to want to start getting rid of all that nonsense that just accumulates dust and cobwebs. Having less stuff in your home will also make your home appear larger and well organized. Just remember: "less is more."
What Stays, What Goes, Start With Rooms You Use the Least
By starting with a room you use the least, it will give you the opportunity to start getting rid of stuff from the start of this project. If you're in the habit of being able to let go of things, then you're more likely to get rid of more stuff than if you started with one of your more favorite rooms.
Keep Items You Cherish
If you have a treasure chest from your great grandfather's war days, you will want to find a great place for that in your new home. Sometimes the things we love the most, we don't use on a daily basis. But just because you don't use it often, doesn't mean you should get rid of it. Yes, some things you can live without and suffice with the memories you had attached to it, but it's OK to keep things you cherish the most, even if you aren't going to be using it a lot. If there's no room for your treasure, think about keeping it safe in a storage unit. Storage units allow you to keep things (temporary or permanently) without having to have them take up space in your home.
Have a Garage Sale
There's nothing better than turning your trash into someone else's treasure. Moving is a great opportunity to downsize your home, which could be something you've wanted to do for a while. Over the years it's easy to accumulate a bunch of stuff we don't use (birthdays, white elephant parties, fairs). The first thing you should do is have a garage sale or try to sell it online through sites like Craigslist or eBay. Garage sales are great if you want to sell big ticket items like couches, furniture or golf sets.
If You're Moving to a Smaller Home, Make Some Rooms Priority
When you're faced with less square footage than you're used to, you might want to try making a room in your home a priority. One of the most popular ways to do this is to combine an office and guest bedroom together. Try revamping the guests bedroom closet into an office space, complete with desk, computer, filing system and lamp.
Ask Family Members, "What They Want to Keep the Most?"
If you have a lot of items you want to get rid of but the kids are throwing a temper about getting rid of it, allow them to choose one item of their choice. Whatever they don't chose, donate to a charity close to your heart or stores like Goodwill or The Salvation Army. Whatever you donate will be put to good use in someone else's home. Who knows, what you're getting rid of could be something someone has been searching years for!
Samantha Porter is a foodie who chooses her vacation based on Zagat's top-rated restaurants. She guest posts for several online culinary publications and award-winning magazines.