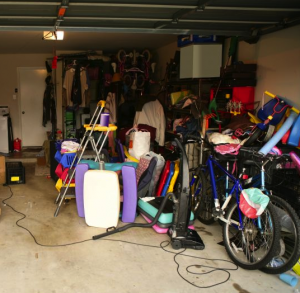 Ah, downsizing. The very word conjures up one of two possible feelings. Victory or Defeat.  To some, downsizing is a goal finally achieved.  To others, especially in this recent economic downturn, downsizing is an unwelcomed necessity.  If this is the case for you, don't necessarily view this as a step in the wrong direction.  Whether by choice or necessity, downsizing can be made easier by utilizing a self-storage unit, and below are a few steps to help make this transition easier.
De-clutter
To begin the process go through and determine what you really want and what you can live without.  How much of your stuff is just taking up space?  When was the last time you used it? Getting rid of things you don't use or need is a big step towards downsizing.
Rent nearby
Keep your belongings near as possible to where you live or frequent. If you're moving across town and need to downsize, find a self-storage unit near where you are going, not one close to your current residence. This will help save you time after the move and will make organizing much easier once you are in your new home.
Don't Mix Business and Pleasure
If the new place doesn't have room for your home office, keep your home based business in separate unit from personal belongings.  This may not sound logical, but two small units may be cheaper than one large unit.  This makes sense if you plan on using the storage unit for business.  Separating the two may also help preserve your relationship with your spouse.  Who wants to discover that your box of precious keepsakes had paint spilled on it? Sometimes it's best not to tempt fate.  That flat space on top of the box of picture frames may prove to be too tempting a spot to throw those heavy tools after a long workday. Plus, if you have to set up shop somewhere else you won't have to dig through all of your personal items to find your work items.
Organize the Storage Unit
Label every box, describing as much of the content as possible.
Keep similar items together. For example, box children's clothes and adult clothes separately.  Why mix kitchen utensils with laundry room items?
Put the items you know you won't be using to the back of the storage unit.
Place furniture upright. Don't be tempted to store that couch on its side or you risk damaging the armrests.
Place mattresses on their sides but brace them up with other items to help them keep their shape.    Keep mattresses and other important belongings off the floor.  You don't want to risk losing things to a spill or water damage.
Seasonal items like decorations and other items you know you'll need access to should be easily accessible.
Make use of shelves if they're available.  Shelves are a great way to keep items safe that might otherwise be crushed.
You may not dig out these items for a long time, but when it's time to do so you will be glad similar belongings are stored together.
Organize at Home
You'll be pressed for space in a smaller home, and many people end up drowning in their clutter even if they store larger items away in a unit. There is a plethora of home storage options that can help you save space in a smaller home or apartment, but nothing saves space like keeping unneeded items in a storage unit.
The most important thing to remember with getting a storage unit is to pay your monthly fees on time.  In these tough economic times, there have been some very sad outcomes because folks have missed their payments.  Learn from their mistakes and do not risk loosing everything in your storage unit.  If your situation is becoming dire consider selling your things instead of loosing them.
Jenn Young is a freelance writer working with Uncle Bob's, a storage facility. When not writing about storage units, Jenn can be found beautifying her home with organization projects.