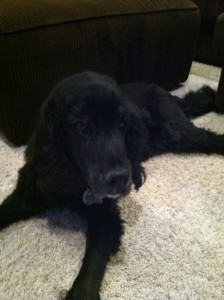 In the midst of this twelfth move, I had to do one of the most difficult things I have ever had to do.  I had to let go of my loyal companion of over 17 years, beautiful Forest.  In the middle of the night with my husband gone, I awoke to my poor Forest's whine.  I knew.  I just knew.  When you have a pet for this long, you know that every day is a gift but you are never prepared for the time when it comes.  I had to scramble and find someone to take the boys so that I could take Forest to the urgent care.  As I drove by myself with Forest in the back, I knew that I would not be coming home with him.  When I spoke to the vet, he confirmed my biggest fear.  I would have to say goodbye.  I would have to let him go.  Boy, was that hard.   I was hit with a flood of emotion.  All the days I took him for granted.  My loyal companion was always there for me to cheer me up when I was down, to snuggle with and keep me warm and to just be there.  Now, I had to tell him to let go.   To move on.  Selfishly, I did not want him to go but I had to put that aside and love him.  Hold him and tell him I would miss him.  It was quick.  He was gone.
It is four in the morning and I am exhausted but I can't sleep.  I miss him.  I miss him terribly.  I will miss the cheerful greeting that awaited my arrival.  I will miss the unconditional love he gave so willingly.  I will miss the way he would nudge me with his nose for a pet.  I will even miss him getting in the garbage.  I know he is in a better place now and not suffering, which gives me some comfort.  It will be hard to tell my boys that he is gone.  He was the one constant in our lives.
In memory of my dearest Forest, give your pet some love today.  Appreciate your time with them because every day is a gift.