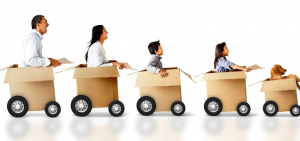 Finding the right interstate movers are key to a successful move.  Moving your furniture through a very long stretch of road is a job for a professional interstate mover. Below are a few precautions they need to take and things you should consider while transporting your belongings between states.
Selecting the right interstate removalists (movers)
Having professional interstate removalists (movers) can make all the difference in moving your belongings between states. This choice alone can result in having all of your belongings in your new home at the scheduled time or having to sleep in your house for three days while waiting for the trucks to arrive. Taking precautions ahead of time, will ensure that the right equipment is in their truck to safely carry your furniture between states.
Overcome this by researching companies and taking the time to go through their website and customer reviews. The first thing you need to consider is if the have the proper credentials.  If you are in Australia, check with AFRA (Australia Furniture Removal Association) – do not consider them if they are not. Next, you should look for previous customers, who have had their furniture relocated to another state. They can tell you a lot about the company itself. When you are calling them for a quote, thoroughly ask them about their experience with interstate removals.
If you have certain furniture, which you know requires special handling, ask them first how they would transport it. Asking these difficult questions can help you understand how experienced they are.
When moving your furniture across states, movers in Australia will use one truck to pick up your furniture and appliances from your old house and move it to one of their depots. These depots will prepare your belongings for the long interstate road trip. Although your furniture will not be transported by the same truck to your new address, this process will guarantee a lower risk of damaging your furniture. You need to make sure that there is a clear line of communication from the people who are delivering your belongings to you sot that you can receive any important updates. However in the US, preparation of your things are done at your home.  Depending on your circumstances, your goods may be stored at their facility and then transported to your new home.
What the interstate removalists(movers) should consider on the road
There are many factors for the removal of all of your belongings from one state to the other. This includes the road conditions, physical state of the truck driver and the rules and regulations for the removalists' (movers') trucks.
Interstate removalists' (movers') trucks must be properly equipped to be able to handle any road conditions while ensuring the safety of its cargo. In Australia, these trucks should be accredited and registered to AFRA, who makes sure that all trucks are operated under their strict guidelines and adheres to industry standards.  In the US, trucks are registered through the US Department of Transportation (USDOT).
Interstate removalists' (movers') truck drivers should be in a sound condition and properly licensed according to the vehicle they are operating. The truck operators must be familiar with the interstate rules and regulations. For instance, Australians drivers are required by the National Heavy Vehicle Driver Fatigue Law to follow one of the three fatigue management schemes. The default scheme is where the drivers are required to work a maximum of 12 hours and must have a continuous seven hours of rest. The other schemes allow drivers to be able to work for more than 12 hours, though they still require them to have at least seven hours of continuous rest.  There are similar regulations in the US to prevent driver fatigue.  If you are interested, ask your moving company for further information.
Before sending your furniture on a road trip, make sure that the interstate removalists (movers) are accredited and have the necessary equipment and professional workers to keep your belongings safe.
Hannah Gregorio is a writer in Australia.  She brings us some great moving tips and advice from Down Under.