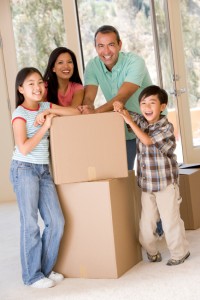 How to alleviate stress during a move?  Moving is a stressful experience that most of us will go through at some point in our lives.  It  ranks with one of the top three stresses one can experience through life along with death of a loved one and divorce.  After all of my experiences moving, I don't think I have ever experienced a stress-free move.  Instead, I have experienced less stressful moves. Based on my experience you can take steps to alleviate your stress by doing several things.
First, be organized.  The more organized you are from the beginning, the better it will be for you.  You need to think of what type of organization method works best for you because you will be more apt to use it.  If you are a computer, smart-phone person, get online and download smart phone applications.  There are a plethora out there to choose from.  Whatever you do, don't spend much money on them.  If you a paper-person, put a binder together.  Either way, you should have a central location to keep all of your notes, bills, account information and contracts.
Second, put together a budget.  If you put together a budget in the beginning, you will be in a better position to evaluate costs.  This way you can minimize any surprises.  If you are going with a professional mover, do your research ahead of time.  You want to make sure the person is reputable and well-respected in their field.  You may have to spend a little more for this peace of mind, but trust me in the long run it will be worth it.  There are scams out there so you need to take steps to protect yourself.  You do not want to be in a position where someone is holding you hostage for your goods.
Third, try to be flexible and open-minded.  Whenever, you are moving to an entirely new location you will have to start to assimilate.  The more effort you make to make this transition happen, the better the experience will be for you and your family.  There will be things that will pop up no matter how much planning you do.  Therefore, the more flexible you are the easier it will be.  We use humor many times to get us through these situations because I will be honest there will be times when you are utterly frustrated.  However, remember you can only control the things in your life you have control of and the rest you just have to mitigate or accept.  In any event, once you have been in your new location for a while, you will look back on your experience and take pride that your new life was well worth the effort.