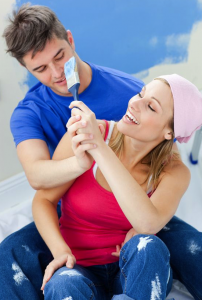 When shopping for apartment decor, what steps do you take to trim the budget? You may have champagne taste on a beer budget. What can you do to get what you want without breaking the bank in the process?
Top Tips for Saving on Decorating Your Apartment
#1 – Don't Impulse Buy
One of the biggest mistakes you'll make is buying whatever you see when you see it. It's easy to buy something because you think it will be great, but that will end up costing you later.
#2 – Get Creative
One of the best ways to decorate on a budget is simply to get creative and to make your own. Visit the library, look online or pull out your magazines and look for easy, affordable ways to make drapes, wall decorations or even table centerpieces.
#3 – Take Your Time
You cannot imagine all the things you need to buy, but you don't have to buy it all at once. It's best to start with decorating those rooms where your guests will see first. Later on, you can add things to bedrooms or bathrooms that are out of view. This way, you can take your time and still have a fabulous looking space.
#4 – Make the Most of Furniture You Have
Instead of shopping for new furniture, shop for ways to repurpose what you have. It's far more affordable to sand down and stain a set of dining room chairs than to buy a new set. Consider reupholstering cushions on couches or just using a slip cover.
#5 – Go with Paint
If you don't want to buy a number of different items for your new space, try to use paint instead. Paint the trim a bright color or create an accent wall. It doesn't require any additional accessories to make a statement. Check with your landlord first!
# 6 – Shop Thrift Stores
You don't have to buy everything new. In fact, you may want to buy a few items that are weathered and worn. That's where thrift stores come into play. These are the perfect ways to find some great looking pieces of furniture, art and other items for your apartment without breaking the budget.  Word of caution.  Check out couches and beds for bed bugs before you buy.
#7 – Don't Buy Poor Quality
A low-quality table sure would help your budget. However, until it breaks in front of your guests at your first dinner party. Spend the money for quality. It ends up paying you back over time because you will not have to replace it.
#8 – Bring Nature Indoors
Apartment decor can often be very modern and sparse. If you want a more natural appeal rather than white walls and beige carpeting, consider bringing some nature into the space. Find a few stones, branches or other items to tuck into the home.
#9 – Update Hand-me-downs
If someone is willing to give you something, take it. They can feel as though they've helped you and you can feel good about not having to buy something. Repurpose it to fit your new space with new fabrics or paint.
#10 – Shop the Deals
You'll find discounts and savings on nearly everything you need in apartment decor online or locally. Don't overspend just because you are rushed to buy right now.
Saving money on apartment decor doesn't have to be a big challenge. It should be based on a budget you put in place in advance.  Write a list of what you need and stick with it.
Mark Russell writes for Apartment Guys of Chicago.  Mark enjoys writing about apartment living and apartment décor among other topics.