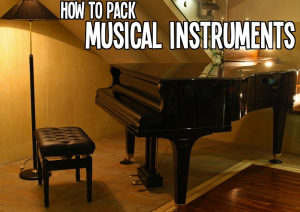 How to pack musical instruments? For any musician, an instrument represents a huge investment — financial or otherwise. Replacing a beloved guitar, clarinet or piano is not just a matter of buying a new one.  It means becoming acclimated to an unfamiliar instrument and losing the sentimental value of a beloved possession.
When it comes time to move, don't make the mistake of being careless with your prized possessions. Make transporting your instrument a priority.   These tips to pack up your instruments will help keep them safe and sound.
Strings
When packing a guitar, violin, cello, bass or other stringed instrument, the first step is to loosen the strings to reduce pressure on the neck. Re-tuning the strings after unpacking may be a hassle, but it is far better than dealing with a snapped string or, worse, a broken neck. Also, remember that any empty space in the case leaves your instrument at risk, so fill it up with newspaper, bubble wrap, packing materials or ideally, soft loose-fill items. The case itself should be hard, sturdy and properly shaped to fit your instrument. In addition, remove everything that is attached to the instrument and store it separately to prevent damage.
Brass
The mouthpiece should always be removed from a brass instrument during storage, which is doubly important during transport. Take the mouthpiece out of your trumpet, trombone, tuba or other horn and store it separately to protect the horn and mouthpiece from damage. Unless the hard-shelled case has a closed, secure compartment to hold the mouthpiece, it is best to keep it away from the instrument entirely, as a mouthpiece stored in an open hole could fall out and dent the instrument. For added security, place the case inside a crate filled with shipping peanuts or other soft material.
Woodwinds
As always, your clarinet, flute, bassoon or other woodwind should be disassembled and stored snugly in its hard case. If you don't have a hard case for your horn, wrap each piece in bubble wrap and store it snugly in Styrofoam or shipping peanuts to prevent nicks and breakage. Small components such as spare reeds and keys should be bagged, labeled and placed where you know you will be able to find them after the move. Remember, moving can be chaotic, so put plenty of failsafe measures in place to make sure you can locate every piece of your valuable woodwind.
Percussion
Drums are especially challenging to pack because they consist of so many important components. Use boxes that are two to four inches wider in each dimension than the drum itself, and as always, fill the boxes up with shipping peanuts or other soft materials to prevent damage. Remove the heads and hoops from each drum. Again, reassembling them may be a hassle, but is it preferable when shipping fragile items. Small hardware components should also be removed and stored securely in a bag during the moving process. Keep careful track of every component and store it all in one place. You don't want to be rummaging through your boxes weeks after the move looking for one critical piece of hardware.
Pianos
While some other instruments are challenging to move, pianos can be the toughest of all just because of their sheer size. Start by closing and locking the keyboard lid, and then wrap the whole instrument in blankets and padding to protect it from possible damage. Double-check to ensure the corners are completely covered. Use plenty of packing tape to hold all of the padding in place, but be careful not to apply it directly to the piano's finish. While the damage caused by tearing packing tape off your piano may be superficial, it is still entirely preventable.
Because they are so massive, pianos often call for special packing and shipping equipment. If you plan on moving the piano yourself, buy some heavy-duty straps to get a better grip on the instrument and invest in a furniture dolly that can support the weight of the piano. Trying to move such a large item by hand is dangerous for both the piano and the movers, so don't skimp on the extra support.
If you must lift the piano onto the dolly or directly into the truck, avoid grabbing it by the legs. They are very fragile and are not designed to handle horizontal pressure. Instead, get a good grip on the body of the instrument and keep it in an upright position as it goes. Make sure the piano is securely fastened into the truck.  If it moves, it poses a threat to everything else in storage.
Another option for moving your piano is to hire a custom crating service. Professionals are by far the best way to protect your investment, because they have the experience, manpower and materials to safely transport your piano.
Finally, when moving into a new home, have an idea of where every instrument will go before you start moving things. This is especially important for drum sets and pianos, as they are essentially pieces of furniture.  Don't forget the insurance.  Make sure to call ahead of time to make sure your special pieces are insured for the move.
This article was written by Brandon Serna on behalf of Craters & Freighters, a leader in custom shipping needs with a strong focus on high quality professional packaging for over two decades.