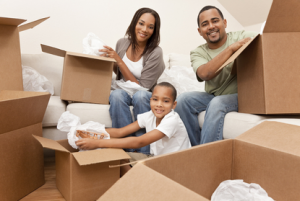 Moving out of state? A big move can equate to big bucks. Although some expenses are inevitable, a DIY and simplistic attitude will strip you of unnecessary costs. Take a "need it vs. want it" approach when you move on a budget and you'll see the that making the move to a distant place really isn't as hard as it seems.
Avoid Surprise Expenses
Planning ahead is the best way to avoid unwanted surprises. Start with a physical visit to your soon-to-be new location. Make sure all deposits, holding fees, parking information and utilities are taken care of so you can accurately plan your budget. If you can transfer your current utilities to your new home, take care of it before you leave. Expect the unexpected and budget a few hundred dollars in your contingency plan.
Pack It, Sell It
Start packing months before you leave. Give yourself time to really go through everything you need and decide what is really worth bringing.
Consider if your stuff is really worth taking with you. If you have lived in an apartment and own a lot of hand-me-downs, consider donating your furniture and replacing it once you get to a new location. This can condense your load from the need for a moving truck to using the cargo space in your car.
Before you donate furniture, apparel, sporting goods, music equipment and old electronics, see what you can sell. Use Craigslist, buy-sell-trade stores or have a moving sale to make extra cash for the move and for new things.
After you've decided what items to take with you, start searching for free and discounted cardboard boxes. Grocery stores will sometimes give you their leftover boxes if you ask. While you pack, use soft fabric items as packaging materials. Consider shipping small items, sometimes it can be cheaper than having a mover handle it.
Make sure all of your boxes and furniture are organized and ready before moving day. If you have hired movers, this will cut down on time and make the process easier on you.
Get There
Rental and mover prices are discounted in the off season, so try to avoid moving May-August.
If movers are a necessity, compare the prices.  If you're heading over the pond and shipping your car is a must, read our past article about the pros and cons of shipping your car. If you choose to hire movers and relocate on your own, driving your vehicle over shipping it will be the most affordable option. If you aren't taking a car, analyze the price difference in flying versus driving a rental car. Rental companies offer hybrids like the Honda Insight and Toyota Prius, which can get up to 44 highway mpg!
Contribution by Raymond Walker.  Raymond is the son of a banker and an accountant, finance has always been Ray's forte. He offers his readers advice on managing their personal and business finances.