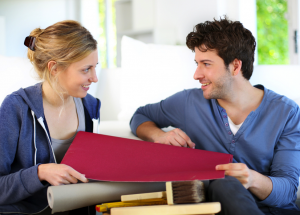 Home improvement is very important and often times follows a move. The situation is messy, requires effort, time and money.
People sometimes go with a partial renovation and then decide to make the whole space look more modern and new. It is easy to understand why it happens. When you change one or two rooms according to latest designer lines, you will hardly bear looking at the others, which may seem old and ugly to you.
If you have already decided to go global, here are some ideas to use for every space in your house or apartment.
Flooring often becomes easily worn out and has to be changed.  When you have decided to make a change, you may decide to do it for the whole house. In the event you want to work with a single room, make sure to evaluate your options carefully so that it flows with the rest of the home. It is good to use no more than two basic colors or shades. It makes no difference if you are putting marble, laminate, real wood or tiles. Rugs and carpets are practical, though they require regular cleaning. They will add atmosphere, a welcoming and cozy look to the rooms you place them in.
You can be braver when it comes to ceiling colors, choosing to go with more than just white. Painting the ceilings a shade lighter than your walls may create an interesting combination.
Usually people spend most of their finances and time in the kitchen during a renovation. This is a room where your family will spend a significant amount of time. Changing the colors of the walls will give it a new feel, creating a difference in both atmosphere and mood. Sometimes things may be as simple as painting a morose white wall in a warm, sunny color to spruce up a room.
Changing the tiles on the walls in your bathroom can make a big difference. Sometimes damage can occur and the only way to deal with them is to replace them. Manufacturers have a way of discontinuing certain lines of tiles as the years roll by, so take time to do your research.
When you do not have enough time or money for general renovations, you can do still do small projects that can change the look of your home. Putting up photos or painting the walls can update the look.  Changing bed coverings, curtains and rugs will also make a big difference.
After you move in, you want to make your new place your home.  Depending on your budget and ambition, you can transform your place into a special home for you and your family.
Amber Collins is a content writer from London, UK wrtiting this article on the behalf of Dartford Removals.  She is a specialist in everything related to house and business relocations, but also has great flair for decoration and interior design.