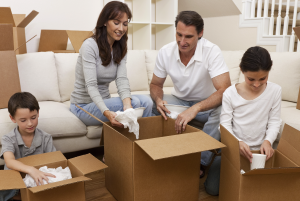 Making house? When you're moving into a new home, it's difficult not to become discouraged by the seemingly endless amount of boxes that you must unpack. While you might think that you can tackle it all in a night, you're wrong. "Home" wasn't built in a day. It takes weeks, sometimes months, to get moved into your new house.
It is imperative that during your first couple of days in your new home, you shift your focus from unpacking to getting situated. Unpacking and organizing is only the technical part of moving; there is so much more to moving than getting your belongings out. Listed below are a few things that you can do to make your new house feel more like home during the first moving day.
Go To the Local Supermarket
You will eventually have to make a trip to your local store for more supplies than you planned for. You'll need cleaning supplies, extra tools, food, drinks, flashlights, etc. Make a preemptive list as you unpack so you're prepared when you get there.
Taking a trip to your local market will also help you get to know the area. You can find local publications, pick up a phone book, and maybe even introduce yourself to your new neighbors.
Take a Walk
While it's still light out, take a break from unpacking and explore your street. This is a great time to meet your neighbors and get a feel for who is living around you. If you have a dog, find your local dog park and meet some fellow dog lovers.
It's important to allow yourself to become excited about your new neighborhood. It's easy to get overwhelmed by boxes, cleaning, and organizing; combat the move-in blues by getting out of the house and away from the boxes.
Choose Rooms
If you have a large family, picking out everyone's rooms is the most important part of the moving process. If the kids are having a hard time playing fair, make them draw straws in order to see who gets which room.
When each child has their room picked out, let them unpack some of their personal belongings. Allow them to put up a poster, a directors chair, or something special that will help them feel more comfortable in their new home.
Unpack the Essentials
Only unpack the essentials on the first day of your move-in. Don't go overboard and try to unpack everything. The "essentials" can be different for every family. Perhaps you are more focused on bedding so that everyone can get a decent night's sleep. Maybe your family has a ritual of hanging up a photo as soon as you walk into a new residence. Whatever the essentials are to you, focus only on those.
Some items that you probably can't get through the night without are: toilet paper, food and utensils, soap, toothbrushes and toothpaste, and other toiletries. As long as your basic needs are met, save the rest of the unpacking for the following day.
Celebrate
Chances are, after hours of hauling boxes and unpacking, you're exhausted. Pick a place in your new house and setup some candles, area rugs, and your television. Open up a pint of your favorite ice cream and watch your family's favorite movie.
If you'd rather not bother with setting up the television, simply relax in the company of your family. Tell stories about your old house and talk about what you're looking forward to in the new house.
Marie Ortiz is a staff writer for DIY Mother.