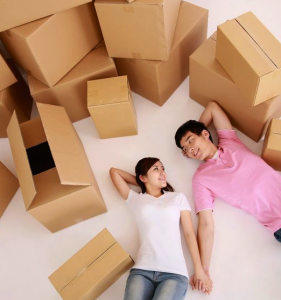 If there was ever a perfect theme for a moving site it would have to belong to MovinGal. "Calm the chaos of moving" is by far the best one I have seen because it is definitely something that relates to people.  Anyone who has ever moved knows that it can be a hectic and stressful time, so advice on how to reduce that is a big help. MovinGal does a great job of providing you with a list of information for after you get to your destination, but I am going to share with you a few moving tips to think about before you begin your journey.
Let us skip a few steps and go ahead and say that you have chosen your new home already and you are planning on moving in a couple weeks. All that's left to do is the actual packing and the physical moving (which let's be honest is the hardest part). To get things started, I would say the very first thing you want to do is make an inventory list of all your belongings. Surprisingly, lots of people will lose or misplace items during their move. So if you have a list of everything you own, you can check it off as you are packing and then make sure everything on the list arrives at your new home.
Next comes the actual packing. I won't go into much detail about the actual process as I'm sure this isn't your first time to pack, but I do want to remind you of a couple things. First of all, be sure that you clean off everything before you pack it up. No one wants to unload a gross coffee table or a dusty dresser into their brand new home. Simply give it a quick wipe down and you will be good to go.
Secondly, I would definitely suggest that you label your boxes so that you can find what you are looking for quickly amidst all the chaos. Think about it, you don't want to pack your phone charger in a box and then have to look through 20 different ones just to find it. You should take that one step further and also pack similar things together. For example, pack all of your electronic accessories together, all your kitchen stuff together, so on and so forth.
Now, I'll go ahead and say that these last couple of tips will be an added expense, but I think you will find that they are more than worth it.
The first is hiring a moving company, or at the very least renting a moving truck. Ten separate trips in your truck is not worth the money you save on renting a U-Haul, and packing a huge moving truck by yourself can be a pain. They are professionals, let them help you; they know what they are doing and have done it hundreds of times before. Most movers will even have more advice and how to pack and transport all of your things safely.
Finally, the last tip would be to rent a self-storage unit. Again, this is an added expense but it is definitely worth the cost. When you get to your new home you don't want all your stuff dumped out all over your living room floor. Instead take your things, or rather have your movers take your things directly to a storage facility so you can keep them safe and secure while you get settled. These facilities usually charge by the month so there is no rush to get your things out in a hurry. Take your time and decorate your home exactly the way you want it.
Following these simple steps should help you "calm the chaos of moving" next time you are relocating to a new area.
This article was written by Matt Schexnayder. Matt occasionally writes for The Storage Facilitator and is on the marketing team for SpareFoot. These online storage aggregators help you find the best deals on Seattle self-storage units as well as other storage units all across the country.