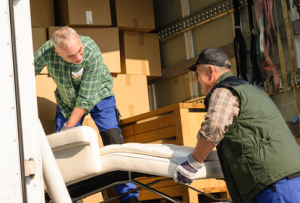 PCS Preparation is key. Getting orders for a Permanent Change of Station (PCS) is something military spouses become very familiar. The opportunity to move to a new place and take your family on a new adventure keeps life interesting. While sometimes military spouses dread packing everything once again and leaving behind friends just to start all over again, it helps to look at this as an opportunity to streamline your stuff, explore a new place and add to your ever-expanding international social circle. Here are some tried-and-true tips to streamline your next PCS to be stress-free:
Create a Plan of Attack
Start a to-do list of everything you can think of and organize tasks into groups from there. Use a notebook to keep all of your moving lists in one place. Include everything, from going through the kids stuff to see what you can give away to canceling cable and alarm systems. For home security, a DIY alarm is best so it can easily be installed and uninstalled when moving. This way, you won't have to worry about getting a new system for each new house. Divide your to-do list and delegate tasks to each member of your family to help everyone get involved.
Make a Moving Kit
Assemble a moving kit of essentials based on your to-do list to keep all of your moving must-haves in one place for easy access. This kit will make executing your plan of attack a breeze. It should include your notebook with your to-do lists, as well as:
Family binder: Filled with all of your most-important documents such as military paperwork, birth certificates, insurance info, etc.
Inventory list: Detailing all of your big items, valuables, and the number of boxes
Camera: To photograph any items damaged in transport
Contact information: For airlines, hotels, and the moving company
Writing utensils: Pens, Sharpie markers, and pencils
Edit Accumulation
For many, a favorite part of moving is streamlining your stuff and getting rid of clutter. Go through your clothes and get rid of anything that hasn't been worn in the past year. Give away any toys that the kids have lost interest in over the past three months. You can save money upon arrival at your new place by bringing all of your furniture. However, if anything is on the verge of needing to be replaced, sell it or give it away before leaving.
Pack an "Open First" Box
An "Open First" box needs to include everything you'll need to get started withunpacking, from cleaning products and snacks to a favorite toy for each kid. For coffee-fueled mamas, be sure to pack your coffee pot, filters, mug, sugar and cream. Also include paper towels, toilet paper, tape and scissors.
A calm, positive attitude makes all of the difference when moving, especially if you have young kids. As moms, our attitudes are contagious. Do your best to prepare and hope for the best and everything will fall into place. Remember, six months from now, you'll be settled and enjoying your new home, so there's no need to stress!
April Robinson is a stay-at-home mom and freelance writer, who shares her experiences with pregnancy and parenting.