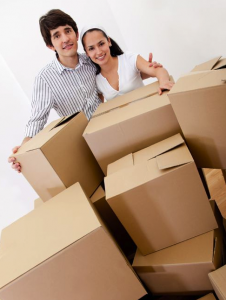 Moving to the UK? You've filled out your VISA application.  You've prepared yourself for less sunshine and more rain.   You've started the hunt for a room or apartment.   As anyone with experiencing relocating to another country, let alone another continent, will know, it's a lengthy process.  However, the biggest question is how much does it cost to move to the UK?
It's a difficult one to answer as it naturally depends on where you're moving from, where you're heading to and how much you own. There are some general tips that can help, both in terms of the physical move and expected living costs. One of the most crucial things you will need to decide is whether to sell your possessions or relocate them with you.
On the up side, selling your stuff will give your moving fund a boost and potentially save a lot on shipping costs. However, it can be a hassle to start all over again in terms of setting up house.  You will need to kit out your kitchen with cooking equipment, purchase furniture for the lounge and other rooms. You may be able to find some items quite cheaply at supermarket chains and home-stores like Ikea, but some ex-pats find that relocating important items like computers work out costing less in the long run, as electronic goods can be more expensive in the UK.
While it's not a good idea to bring your hoards of knick-knacks and ornamental vases overseas with you, if in doubt, swap a few pairs of pants for some pictures, hangings or anything that will make your new house feel more like a home. Bringing bags and bags of clothing is less essential and you should be able to pick up anything extra once you've arrived.   As it's likely that you will need to buy items like raincoats and good walking shoes. Make sure you remember things like insurance if you do ship some of your goods.
In terms of general living costs, location is obviously a big decider. London and the south of England can be pricey compared with the US and you should be prepared for smaller houses and 'flats' than you may be accustomed. Having said this, property and rental prices are reduced significantly as you travel northwards towards cities like Leeds, Manchester and Newcastle, and places like Glasgow in Scotland are worth investigating as well.
While residents can receive free healthcare on the UK's National Health Service, some American immigrants find the National Insurance payments which come out of their earnings every month can work out the same or more than health insurance payments back home. But some costs are favorably different.   You will not be charged property tax in the UK and the equivalent Council Tax can be cheaper than the US.
You may find the moving process takes up most of your time in the coming months and for this reason, many people use relocation companies to organise everything they need.  It does save you doing a lot of the paperwork yourself.  Do your research is the best advice you can be given with such a life-changing move, so make sure you check out all the outgoings you will face when you arrive, as well as those en route.
Property news author, Ewan Robertson is based in London and has extensive knowledge of both UK and international markets. Here he looks at what to remember when moving from the States to the UK.