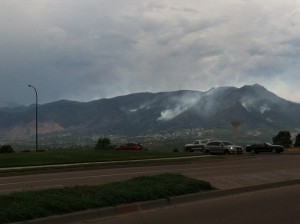 With the Black Forest Fire raging in Colorado Springs and The Waldo Canyon Fire fresh in our memory I thought this would be a timely repost. These fires remind us of how important emergency preparedness is.  A great time for emergency preparedness is when you move.  When you are moving, you have to go through the excercise of weeding through all of your important documents and high-valued items.  Therefore, take the time to think about how you could store these items so that in case you have to evacuate your home quickly, you have your things safe and easily accessible.
We lived through the wildfires in Southern California about four years ago and it made a huge impact.  Fortunately, I realized from moving so often I was already somewhat prepared.  I had my important documents, jewelry and collectables in a portable file container.  Also, I had all of my sons photos in plastic bins.  Having these things in one location made packing my car to evacuate in California much easier. Therefore, consider keeping some of these items in plastic bins and a portable file container where you can get to them quickly.  I hope you never have to experience this, but it is always best to be prepared.
Looking for just the right place to live?  Let MovinGal give you all the community-based information you need to help you make the best decision for you and your family.