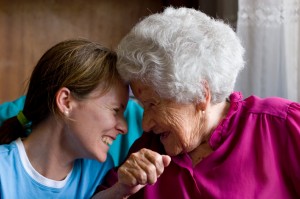 Moving an elderly parent who can no longer live on their own is a real challenge many face.  Recently, Frontline and CNN's Inside Man covered elder care in America.  With over 70% of Americans over 65 years of age needing long-term care at some point, moving your elderly relative is a growing reality.  One of the most difficult moves that many of you may face is having to deal with an elderly family member, who no longer can live on their own.  This will be very challenging and emotional because you both will have to come to terms with the fact that independent living is no longer an option.  Depending on the condition of the family member, you may be making many decisions on their behalf, which will only add to the stressful situation.
The best tip I can offer is that the more organized you are the better you will be.  Because you will not only be organizing the logistics of the move, it will be best to get yourself a binder to put everything related to your loved one in one location.  It will also help because if you are lucky to share this transition with another relative the binder will help you both coordinate efforts.
If you are fortunate to have your loved one's wishes known and planned ahead of time, you are very lucky to find yourself in a position to implement their wishes.  However, if you are unfortunate and do not know or have not discussed scenarios, you will be in a difficult spot.  The most important thing to keep in mind is that you know them best and you will make the best decisions for them if they are unable to make them themselves.  You will just have to do extra research and ground work.
Remember this will not be easy but the stronger you are for your loved one, the smoother the transition will be.