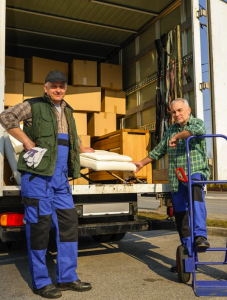 Knowing the difference between a moving broker and a moving carrier is important and can protect you from a potential moving scam.  Moving brokers are companies that find moving companies that suit your moving needs.  Essentially, they are a service that connects you as a moving customer to the moving carrier.  The get paid a commission from the moving carrier.  Most moving brokers are reputable.  However, with the internet there are some brokers who are not reputable and do not screen the moving carriers.  Moving brokers are not regulated like moving carriers. Often times, they will be soon out of the picture once they get their commission.  This is where you can find yourself in a compromising position.
When you are searching online, make sure to read the fine print and understand if you are dealing with a moving broker or directly with the moving carrier.  If you get an online estimate, it can be tricky.  If you are not dealing with a reputable moving broker, you could find that the online estimate you receive could be very different from the moving carrier's estimate.  This is where you can find yourself with your goods being held hostage for additional money.
You can protect yourself by doing additional due diligence.  If you are dealing with a broker, check with the Better Business Bureau.  Ask them about their policies and procedures.  Find out if they screen the moving carriers they recommend.  Ask them for the names of the moving carriers they use and their USDOT number.  This way you can go to protectyourmove.gov to find out their complaint history and standing.  If you have only received online estimates, call a local moving company and get an in-house estimate for your move.  It will cost you nothing but your time.  However, it could save you a bunch in the long run.  Use this as a barometer for the online estimates you have received.  If their is a huge difference, you may want to think twice.
Moving is stressful enough.  Putting the time in the beginning to find the right company will serve you well and help you avoid potential problems in the future.