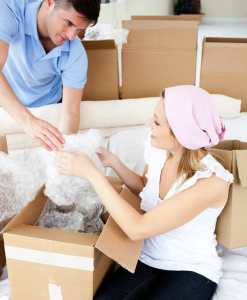 Packing is a chore and unpacking can be just as painful.  However, you can take some steps to help make your life easier.  Labeling your boxes well ahead of time will really save you some time unpacking.  If not, it will be like a bad Easter Egg hunt without the candy and fun.  Therefore, when you pack make sure to label each box with the location it came from and a general description of your items.  You also want to put an arrow in the direction of the top of the box.  This is especially important if you have packed fragile items.  If you have a professional move you, make sure to put your name on every everything.
With everything labeled correctly, you will be able to make quick work of stacking the boxes in the rooms.  Try to stack things in your room methodically.  If it is possible, try to get your large furniture items in first.  This way you can see where you can fit your things.  If not, keep furniture placement in mind.  If you are having a professional move you, make sure to take full advantage of it.  Have them place your furniture where you want it while they are there.  You don't want to have to move things around and hurt your back later.  Don't forget to set up your beds.  You want to have them ready to go to bed that night.
Remember, your house will look like a bomb went off for a few days.  It can be frustrating, but try to tackle it one room at a time.  My biggest tip is to unpack the kitchen first.  For me, the kitchen is the heart of the home and once it is done you will feel that you are well on your way.