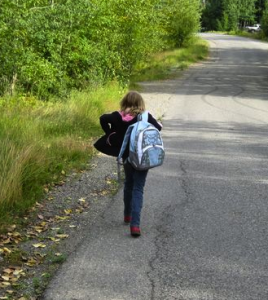 With back to school in full swing, I thought I would take the time to remind you about getting your child familiar with their surroundings. This is important whether or not he or she rides the bus consistently.  If for any reason they miss their stop or get off early, it is important for them to be able to navigate their way home.  If you have moved recently, you may not be familiar with the school district or route of the bus.  Call the transportation department for information on your child's route.
Get to know your neighbors and their children.  It is always best for children to walk in groups.  This way they can meet new friends and look out for each other.  As I mentioned in a previous post, go over your child's contact details with them so that in case they get lost they will be able to seek help and that help can easily find you.
So take a Sunday drive with your kids around the neighborhood. Get to know your surroundings and explore various ways home. This way your child will be prepared.
Getting to know your community?  Let MovinGal help you.  From the nearest police and fire department to sex offender registries, MovinGal has it all.