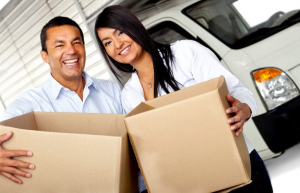 Planning on renting a moving truck for your upcoming move?   Here are a few tips to keep in mind for your moving truck rental.
Identify your needs.  You need to know whether or not you will be moving straight into your new place.  If for any reason you may need temporary storage, a moving truck rental may not be the best option.  If that is the case, you should compare prices on a portable storage container versus renting a truck.  You want to compare the daily rental costs of each.

Do your research.  Once you have identified you needs, begin to do your research on moving trucks online.  Check out what is available in your area and do price comparisons.  This will help you find what you need.
Compare prices.  Make sure to compare the estimates you are given for the moving truck.  Look into any specials they may have on offer.  It is worth asking.
Insurance.  This is so important especially if you are driving the moving truck yourself.  You want to check your current auto insurance policy to make sure that you will be covered.  Further, you should clarify your coverage on your homeowner or rental policies.  You want to make sure that your contents in the truck are covered.  The last thing you want to find out is that your stuff is not covered and it is strewn all over the highway.
Lock it.  Make sure to get a lock or rent one when you get your moving truck.  You want to be able to secure your items in the back of the truck to prevent them from being taken.
Capacity.  If it is more than you and your partner, you may have to follow the moving truck in a car behind.  Keep in mind that most rental trucks do not have much capacity up front for passengers and it is not the most comfortable of rides.  Therefore, if you have kids you may want to follow behind with the DVD player.
Good luck!  Take the time to find the best option for your move.  This will help to make your move as smooth as possible.  For further information to help you move and get settled faster, check out our MovinGal online services.