Moving?  Organization pays off.  If you are about to embark on a move, it is so important to be organized.  I begin by putting together a notebook with pockets.  I find that this works best for me.  You could use a binder or folder.  Find what fits your style.  There are even some electronic checklists, organizers for purchase and websites with calendars.  Either way, keeping all of your information in one portable location is key and helps prevent it from getting packed, left behind or lost.  In this organizer of mine, I put in account numbers, addresses and contact numbers for the following: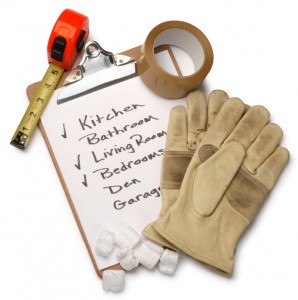 Utilities
Mortgage Lender
Insurance
Bank Accounts
Information on the Mover
Temporary Accommodation Information
To Do Lists
Realtor/Renter information
Notes and Records of Telephone Conversations
Doctor/Pediatrician Contact Details
List of Subscriptions
Noting all contact details and account numbers helps you to work off one list and makes it easier to track balances due and refunds owed.
I divide my notebook in two sections.  One section is for the 'old' home and the other is for the new.  This helps me keep track of everything as I call to cancel utilities, redirect subscriptions and open new accounts in the new location.  I also keep a copy of each statement from my 'old' home.  I put them in the pockets of my folder.  This helps me have a record available to hand before everything gets packed.
Writing things down early in the process helps prevent overlooking an important detail during the move.  This is especially important if you are moving a good distance.  Put together a list of services like your:
Pharmacist
Dry Cleaner
Tailor/Seamstress
Safety Deposit Box
It may seem like a bit much, but in the stress of the move you may forget it if you do not have it written down.  You do not want to be in your new home and realize you forgot to pick up your dry cleaning or prescriptions and empty out your safety deposit box.
I also get a small portable file container that I keep my notebook and important papers in.  I keep our social security cards and annual updates, checkbooks, passports, birth certificates, copies of wills and drivers licenses and medical records.  I also keep a memory stick of photos of all of our things in the house.  You could scan other important documents and save them on a cd or memory stick and keep them here too.  This is important because you can carry this with you wherever you go.  You can also keep it when you move and use it as an 'in case of emergency' container.  This way if you do have an emergency and have to leave quickly, you have everything in one container to take with you.