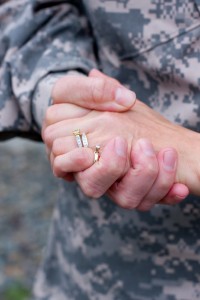 Home is what you make of it.  After attending the Army Wife Network's (AWN) Field Exercise at Fort Carson, I thought this would make a great repost.  What struck me as so powerful was the statistic that 1% of the population shoulders the burden of our protection.  Not only do these men and women sacrifice but also their families.  I was fortunate to meet many of these fantastic spouses at this event and I was reminded that it is their strength and grace that gets the stuff done while their loved one is deployed.  Over our years of moving, we have met some wonderful military families, who have touched our lives and become dear friends.  It has always amazed me how strong these families are because not only do they move, often times away from friends and family, but they are also dealing with the possible deployment of their loved one.  This adds additional stress to their family but most of the trailing spouses I know handle this with such strength and grace.  They have my utmost respect.
Those of us who move often, home is what you make of it.  You learn quickly how important it is to create a support network where you are.  Often times your friends soon become family.  As more and more of our military families integrate into their local communities, keep them in mind.  Your neighbor who just moved in may be dealing with a spouse being deployed.  It is the little things that make the difference.  So, take the time to introduce yourself and bring over that plate of cookies to the new family who moved into the neighborhood.
Jennifer See, a military spouse, has some great blog posts.  As a fellow Spartan, she already has a special place in my heart 🙂  Her recent post entitled "Some thoughts on Home" really touched me.  She was responding to an email to a trailing spouse about to embark on her first assignment with her husband.  She quoted a friend of hers, "I had cast my lot with a Soldier, and wherever he laid his hat was home to me."  This really resonated with me.  She goes on further, "Over the years, I have realized this: "home" is where you make your own life, with your own family, and your own traditions. Chances are, once you marry in the military, the place you were born and raised will be in your rearview mirror for a long, long time."  This is so true, not only for military families but also those civilians who move frequently.  So keep her thoughts in mind as you embark on your new adventure.  You set the tone for your next assignment.
Another resource is Military Homefront, Supporting Our Troops and Their Families.  Here they have a list called Moving 101, which will give some valuable information to start.