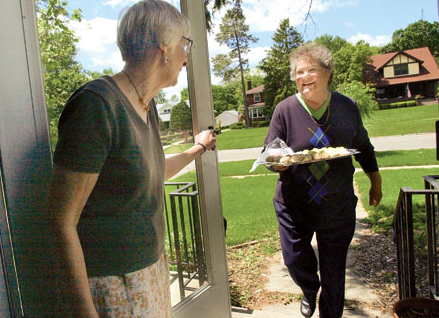 Meeting your neighbors is a huge step to settling into you new home.  There are many different ways you can get to know your neighbors.  It is important to realize that with everyone's busy schedules expecting your neighbors to come over with goodies to introduce themselves may or may not happen.  It is not that they are trying to be rude (there are always exceptions), they may be overwhelmed with work and family life.  Therefore, you may need to be proactive and knock on a few doors to introduce yourself.  Taking the initiative is great way to meet folks and get to know them better.
We just moved earlier this year and have met most of our neighbors.  They are a wonderful group of people, who have not only welcomed us but helped me tremendously.  I got the special treatment with folks coming over with treats to introduce themselves.  The boys and I were so happy because that hasn't happened on some of our moves.
We were boo'd last night and it made our night.  If you are not familiar with being 'boo'd', it is when someone knocks on your door and leaves anonymous Halloween treats.  In turn, you are to return the favor to another unsuspecting neighbor.  It is great fun and a nice way to get the kids involved in meeting your neighbors and making friends.  It fosters that sense of community and neighborly fun.  With the holidays upon us, it offers a great opportunity to socialize and enjoy your neighbors company.  Moving is stressful and time consuming but taking the time to get to know your neighbors will not only make you feel settled but give you the peace of mind that you have other folks in the neighborhood, who you can call on if you need them.