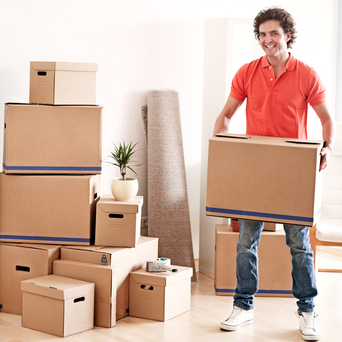 In 2011, 12 percent of Americans moved at least one time, up from a low of 11.6 percent in 2011, the Census Bureau reports. The most stressful aspect of moving is packing and unpacking belongings. New technology makes it easier to pack, unpack and stay organized during a move. Use these seven apps before and after the big day to get through your next move with less stress:
Before the move
Staying organized and checking items off your to-do list are the biggest hurdles before you move. Get on track and power through move-related tasks with these three apps:
Moving Van — If you're the type who starts packing early and likes to get a little done each day, you may find you forget what's in each box by the time the move is complete. This $1.99 app helps with packing and unpacking. Assign a box to a room, list its possessions and photograph the box to help cue your memory. If you're putting things in long-term storage or storing things in a basement/attic after your move, this app would also be very helpful.
Inventory — As you prepare for the move, you'll probably discover lots of items that you forgot you had. Consider this your chance to inventory everything you own, using the $1.00 Inventory app. Assign an item to a category or scan its barcode, take pictures to showcase its condition, mark the item's location and back up all data to the cloud. This app is only available for Windows Phone, but there are similar apps for Android and iPhone.
USPS Mobile — The free USPS app allows you to manage your mail in preparation for the move. Use the app to complete a change of address form, schedule a hold on your mail or schedule and pay for package shipping in preparation for your upcoming move.
After the move
After your move, your focus shifts to unpacking, orienting to your new neighborhood and getting back into a routine. Ease this process with these three apps:
Foodler and Yelp — You'll definitely need some take-out as you unpack and set up your home, and Foodler is easy to use. Unfortunately, the site's reviews are not great, so consider using Yelp as a backup tool to check out any of the restaurants you find. A good meal makes unpacking so much easier. Both apps are free.
Meetup — Meetup helps you connect with people in your new location, which is a must if you're moving somewhere where you don't already have a community. Download the free Meetup app, then search for groups in your area that participate in activities you enjoy, be they dog walking, computer programming or playing basketball.
Security Camera app — There are many security camera apps, such as the free AtHome Camera for Android. Consider setting up one of these apps as a short-term security solution to protect your home after a move. Alternately, use the move as an excuse to browse home surveillance packages throughSecurityCompanies.com and purchase a comprehensive home security package.
MovinGal – Helps you get a good understanding of your new community with information on many different things like your nearest grocery store, pediatrician, emergency room  and much more.
Marie  is a freelance writer from Oregon.