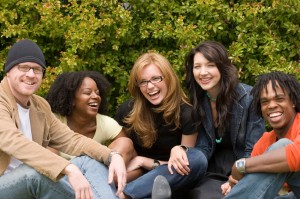 Just moved?  Looking to find new friends?  This can be challenging at first.  However, there are many opportunities to get involved and meet new people.  Start by thinking about your interests.  The best way to meet people who share your interests is to meet them doing the things you like to do.  If you like to read, think about joining a book club.  If you like to work out, join a gym.  If you like to cook, look at attending some cooking classes.  Williams-Sonoma offers free technique classes on Sundays.  If you like to decorate, Pottery Barn offers free decorating classes on the weekend.
If you have children, just getting involved in their activities and school will give you many opportunities to meet and make new friends.
Meet Up is a fantastic way to meet people that share the same interests as you.  You can both create a group or find a group that reflects your interests.  Once you start to get involved, you will be surprised how quickly you will meet some great friends and you will start to feel more settled and at home in your new place.