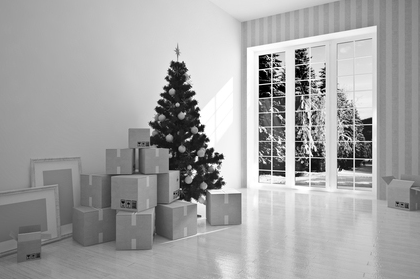 If you tell people that you're moving during the holiday season, they might think you've gone off of the deep end. As if this season wasn't already hectic enough! According to North American Van Lines most moves happened between May 15 and September, so why now? Regardless of your reason, a move can be pulled off just as smoothly and efficiently as any other time of the year, as long as you've done your homework, made some minor tweaks to your holiday traditions, and made the proper arrangements with vendors in advance.
Rethink Gifts This Year
Handling holiday shopping while trying to clear out and pack up your home is a recipe for stress. Talk to your family about rethinking the way you handle gifts this year. Maybe it's a good idea to wait until you're settled in to your new home to exchange gifts.
You might also consider not giving physical gifts this year, and spending the money on family activities instead. Save the money you would have spent on gifts and put that towards visiting the places that are most meaningful to you near your old home, and also exploring the amenities you new cities has to offer.
Learn the Rules of Your New Building
Visit your new apartment, home or condo before you move in and put up a few holiday decorations, so that your family arrives to a welcoming, festive space. Before you hang anything, however, make sure you know your building's rules or your HOA guidelines. Whether you're building a home in Los Angeles or renting an apartment in Boston, every place has its own rules.
Some landlords or homeowners associations restrict what type of decorations you can display. For example, some buildings or developments ban strings of light that blink on and off. Your new building might also restrict when you can hang up your decorations and when you need to take them down.
Organize Your Moving Boxes
Pack your your stuff in an orderly fashion to help avoid headaches on moving day and when unloading everything into your new home. Label your boxes carefully with a good ol' fashioned marker, or go the modern route by using an app. The Moving Day app lets you create labels and barcodes for each box, so that you can easily find what you're looking for. It also helps you see if a box didn't make it to your new home. Moving Day is only available for the iPhone. If you use Android, you can try a similar app, such as Move Tools.
Think of the items you'll need right away when you get to your new home and use a special sticker, such as a Christmas tree or star, to label them. For example, if you're doing a cross-country move or traveling from one climate zone to another, you'll want to have either cold weather gear or warm weather gear at the ready when you get there.
Eric Eckhard is a former sales agent for a national moving company. These days he blogs about relocation and the moving industry