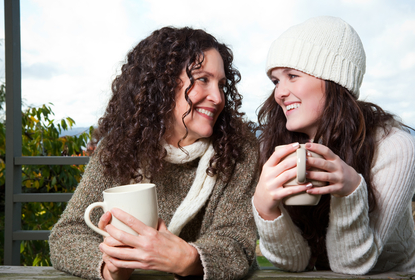 The stereotype about adult kids still living in their parents' basement has become a sobering reality for many families. Thirty-six percent of American millennials ages 18-31 were living with their parents last year, Pew Research found, including 56 percent in the 18-24 age group and 16 percent ages 25-31. Forty-five percent of these were unemployed. This is an increase from the number of millennials living at home during the economic downturn of 2007 to 2009. If your family is experiencing this trend, you can help get your adult child out of your home and onto his own feet.
Plan a Transitional Budget
Bad financial planning is a cross-generational problem contributing to the number of millennials living at home. Half of Americans of all ages have no formal financial goals, according to Northwestern Mutual's Planning & Progress 2013 report. Lack of time is the leading reason among all age groups and especially among millennials—38 percent say they're too busy to think about long-term finances.
Encourage your child to create a budget that covers his long-term needs. This can help him prepare to pay for his own place. To help initiate a serious conversation, ask him how he plans to pay for his living and retirement expenses after you're gone. Set a good example and drop a hint by reviewing your budget with him and make him aware of how his living expenses fit into yours. Let him know how much he'd normally be paying for rent or mortgage, and charge him at least a portion—this will help him get in the habit of budgeting monthly expenses.
Help Him Increase His Income
Fifty-six percent of millennials earn under $30,000 a year, and the percentage earning below $10,000 ranges from 19 percent among whites to 23 percent among Latinos and 32 percent among African-Americans, according to a joint study conducted by Demos and Young Invincibles. In order to afford his own place, your millennial may need more income.
Point him in the right direction. He can find a career counseling center through Goodwill Industries or use an online resource such as JobHuntersBible.com. He may be able to get in touch with a career counselor through his former school, too. If your millennial is living at home due to an injury and receives regular payments from a structured settlement, he may be able to sell his structured settlement payments to J.G. Wentworth for a lump sum of cash now. This might be the boost he needs.
Start a Savings Plan
Financial experts agree that building an emergency savings fund is a fundamental step toward financial independence. Conventional wisdom recommends saving three to six months of living expenses, but in today's economy, nine to 12 months is safer, according to National Foundation for Credit Counseling expert Gail Cunningham.
You can help start your millennial's savings fund with a birthday gift or small monthly deposit into a savings account. Or, you might make depositing his own regular contribution a condition of living with you. This will help him save the funds he needs to pay rent or mortgage when he moves out.
Stephan Whittle is a native New Yorker, Steve is a work-from-home financial consultant and father of twin girls.